SOUTH ARDMORE /ARDMORE PARK
The Beginning. Early Patents under William Penn
Scull and Heap Map of 1753
The proportions may be distorted. The central identifiable point is the Saw Mill at the bottom of the current Mill Road and Karakung Creek, the present P&W power house.
The Ash Map, 1848
Haverford College is listed as The Haverford School. Humphreys own Pont Reading.
1868
Smaller properties appear along Darby Road. What will become South Ardmore / Ardmore Park is still broad acreage. Church Road is today's Eagle Road. St. Denis is marked by a small cross.
Wood Lea Sanitarium,

​1908
1906
The Philadelphia and Western and the Development of Ardmore Park.
​

In the 1906 ad lots went from $170 to $385. In this advertisement they are down to $120.
1914
1929
Houses are still relatively few.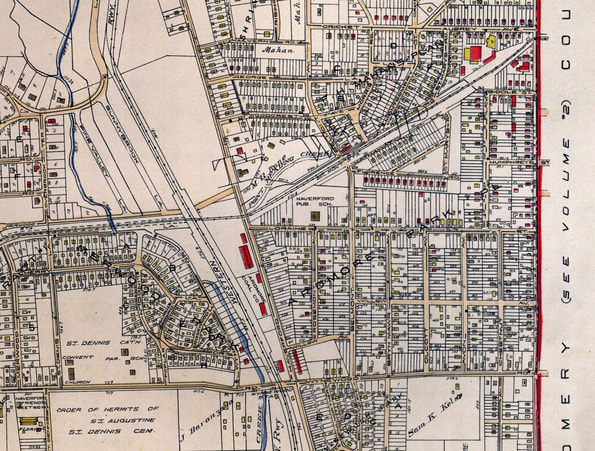 ---
The Red Arrow Lines
INFORMATION NEEDED - if you live in this area and have photos or other notes please contact me at harfordhall@gmail.com Thank you.